visorcentral.com >> Products & Reviews >> Accessories
Slipper Visor with VisorPhone Case
Product Info
Details
Availability
Pricing
| | |
| --- | --- |
| » | $54.95 (w/ clip) |
| » | $51.95 (w/o clip) |
Usability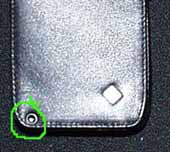 There are only two ways to use the VisorPhone with the case. The first is without an earphone. In this scenario, you must dial or receive your call, then close the flip cover and speak. This is a bit awkward, especially if you need to use the keypad to enter any numbers. However, the case designers did a great job of making the speaker and microphone accessible. Even without the Visor lining up right in the case, people could hear me clearly. There is a nifty little hole in the flip cover to make this possible. It's a little strange to speak on the VisorPhone with the leather flap closed, but it works.  It doesn't work to talk with the flap open; the flap blocks the speaker, so you can't hear clearly.

The other way is to use the earphone. This way works well. The case is really designed for using it like this. The only real drawback is that it's hard to keep the flip cover open if you need to do data entry or something, which I will address later in the review.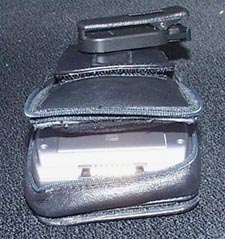 To HotSync, change the batteries, or perform a reset, the case unzips on the bottom. This works, if a little awkwardly, and looks a little silly (I'm reminded of long underwear with the flap), but allows the Visor to stay inside the case while performing these functions.   The case also exposes the infrared port, allowing beaming from inside the case.
The buttons on the Visorphone are all easily accessible. The biggest usability problem, other than the power button already mentioned, is pressing the down button. 
I read a review of the Slipper Visor that complained about Velcro sewn on the sides of the case not holding the flap shut securely. Perhaps the company took this complaint to heart, because now the only Velcro holding the flap down is on the bottom of the flap. This holds the case closed but makes pressing the down button more difficult. I would suggest that instead of Velcro, the company use a weak magnet on the flap and a thin steel bar on the bottom of the case to hold the case magnetically closed. These could be sewn into the Visor and would be an elegant and invisible solution. This assumes that the magnetism would not be a problem for the Visor components, however.

The flip top >>


Copyright ©1999-2016 Smartphone Experts. All rights reserved : Terms of Use : Privacy Policy
VisorCentral is not not affiliated with or endorsed by Handspring Inc in any way.