visorcentral.com >> Stories >> Hardware
VisorPhone Keypad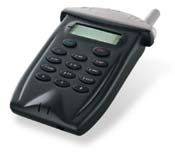 We reported last September that Kensington was working
on a keypad for the VisorPhone, and it now appears this product is finally ready for the market.

The latest issue of Handspring's resource Guide contains the following information:

"Take your VisorPhone everywhere you goóbut leave your Visor handheld behind! Simply slide the VisorPhone onto the Kensington Phone Keypad Accessory, and you're ready for action. The Phone Keypad turns your VisorPhone into a stand-alone cellular phone and frees your Visor handheld for other uses.

Send and receive calls, and redial last numberójust like any cellular phone†


Compact design comfortably fits in hand, purse or pocket.†


The Kensington Phone Keypad helps you get extra mileage from your PDA investment


The Kensington Phone Keypad helps you get extra mileage from your PDA investment."

No price or availability date has been announced.




Copyright ©1999-2016 Smartphone Experts. All rights reserved : Terms of Use : Privacy Policy
VisorCentral is not not affiliated with or endorsed by Handspring Inc in any way.