visorcentral.com >> Stories >> Commentary
A Developer's Perspective
Programming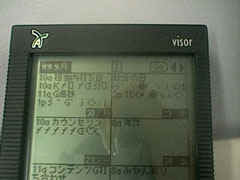 What palm applications did you write?
J-OS: add-on type Japanese OS for PalmOS. In Feb 99, 3Com released official Japanese version of PalmOS 3.1 and IBM Japan released WorkPad with Japanese PalmOS. Before then, all Japanese users were using English Palm with my J-OS. Some users are still using J-OS with their Palm V, Palm IIIx, Palm IIIe etc.
PiloKey: Worlds first keyboard driver for PalmOS.
WorldFinder: Worlds first web browser for PalmOS - Iím not upgrading it though :)
DA Launcher: Launcher of small applet. I call it DA(Desk Accessory).
Do you plan to make any applications that use the new springboard?
Not yet, but Iím inspecting the possibility of the Springboard architecture.
Do you have any other comments about the Visor?
The Springboard and supporting software is really cool. It redefines "Plug & Play". Iím very eager to see many Springboard modules and also want to make a nice module myself.
YAMADA Tatsushi can be reached through his homepage:
Hacker Dude-san
http://www.tt.rim.or.jp/~tatsushi




Copyright ©1999-2016 Smartphone Experts. All rights reserved : Terms of Use : Privacy Policy
VisorCentral is not not affiliated with or endorsed by Handspring Inc in any way.