visorcentral.com >> Stories >> Special Reports
Counting down to PC Expo 2000
More Modules
IDEO will be showing off the Eyemodule digital camera.  No word yet on any additional products by the company.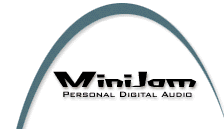 InnoGear has some of the most anticipated Springboard modules, which hopefully will be in their final form at PCExpo.  With the excellent InnoPak/2V, we've had a glimpse of what this company can do.  The MiniJam MP3 player and the SixPak have the potential to be the highlights of the Springboard modules, as they have the features that "Visorholics" have been clamoring for.

GeoDiscovery will be giving the HandyGPS (see below) a run for its money in the GPS market.  Having the potential to not only tell you where you are, but where the nearest hot spot to go to is very appealing.  Expect more information on June 21st, just before the show.
Navicom has all the makings of a good soap opera, as the company has delayed its HandyGPS Springboard module over half a year past its original December due date.  According to a letter of apology by Navicom, the HandyGPS will be "on your hands" in time for the Expo on June 27.  Hopefully the HandyGPS will be worth the wait.
Novatel made a recent announcement on a wireless Springboard module, and PCExpo lists the company as Novatel/Omnisky, so what do you think we'll be seeing? 
Sharp Electronics Corp. - Your guess is as good as mine on this one.  A loooong time ago there was an article where someone mentioned a "mini-Visor" made by Sharp, but it's pure conjecture at this point.

Shinei will most likely showing us the i-Vox, another Voice recorder Springboard module.  With three different companies having Springboard modules that act as a voice recorder, there should be some good competition in this category.
Springthings - Another mystery, as the only thing known is that they will be in Handspring's booth and they have a website with zero information on it.  I'm going to take a wild guess and say that they will have some sort of Springboard module to show.
Landware will in both Handspring's and Palm's booths showing off their GoType! keyboard, a demo of the Merriam Webster dictionary (although not on a Springboard module), a newer enhanced version of the Zagat restaurant guide, and a new pinball game called 9-ball. They may also have a few surprises as well.
Symbol Technologies should be showing off their barcode scanner module.
Targus will most likely be showing off the Stowaway keyboard and maybe a few surprises.
Xircom should be showing off its Ethernet connectivity and wireless Springboard modules.
And there you have it, the current list of companies that will be in Handspring's booth at PCExpo 2000.  Keep in mind that some announced products may not be showing, and of course there's plenty of time for some last minute changes and cancellations.  If you will be at PC Expo and would like to meet with someone from VisorCentral, drop me a line.



Copyright ©1999-2016 Smartphone Experts. All rights reserved : Terms of Use : Privacy Policy
VisorCentral is not not affiliated with or endorsed by Handspring Inc in any way.