visorcentral.com >> Stories >> Special Reports
Cutting the Cord
OmniSky, GoAmerica, ActiveLink
Omnisky
Omnisky's "All in one solution for wireless Internet and Email access" uses a branded version of Novatel's Springboard, and includes their proprietary Palm OS focused OmniSky software and service.
The Omnisky service offers:
Send and receive email from your existing POP3 accounts or use the OmniSky email account.
Go to virtually any Web site
Search the Internet
Look up names and addresses - then easily copy them into your address book.
Access to optimized content (stock quotes, sports scores, news etc)
OmniSky currently charges $39.95 for unlimited wireless access nationwide.

GoAmerica

GoAmerica, a wireless internet service company that offer its service to a wide variety of portable devices, also plans to bundle Novatel's Minstrel S with it's own client software and services.

The Go.Web browser and Go.Mail e-mail client, which comes pre-loaded on the Springboard, are required to take advantage of GoAmerica's Go.Web service, which optimizes compressions and speeds data transmission, reducing latency.
GoAmerica has just announced partnerships with EDS that put the company in a very favorable position for obtaining enterprise clients.

It is expected to be available sometime late 2000, with a monthly service fee in the $50 - $60 range.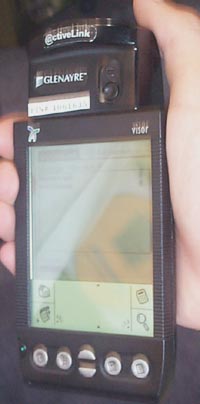 @ctivelink
@ctivelink by Glenayre was the only 2-way wireless solution demonstrated at PC Expo that did not use the Novatel Wireless Springboard module. Rather than using a CDPD based network as the other systems, @ctivelink is based on the ReFLEX network - an industry first for a PalmOS device.
The ReFLEX network offers a persistent, always on connection - enabling the @ctivelink to be on whether it's in or out of the Visor handheld computer. Glenayre also claims that the ReFLEX network gives better coverage indoors than CDPD.
Stored on the Springboard module are BeamLink and InfoBeam, two applications that offer access to e-mail and Internet information such as sports, stock market, and weather updates. Glenayre has also created a software development kit that will empower developers to create wireless applications to use in conjunction with the @ctivelink, expanding the module's functionality.
Like the Minstrel S, the @ctivelink features an LED that indicates when a message arrives. Unlike the Minstrel S, this module offers outstanding battery life - up to four weeks on 3 AAA. The @ctivelink will start shipping in August. Pricing is currently not available.
Copyright ©1999-2016 Smartphone Experts. All rights reserved : Terms of Use : Privacy Policy
VisorCentral is not not affiliated with or endorsed by Handspring Inc in any way.