visorcentral.com >> Stories >> Special Reports
Springing into action
Infomitt, Memory Access, Geode, HandyGPS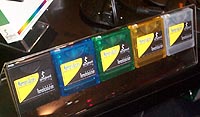 Global Access is now shipping its first two modules. The Memory Access has 2MB of flash RAM, a vibrating alarm, and an LED blinking light. Alarms can be modified so all three alerts (audio, vibrate, LED) go off at once, alerting you no matter where your Visor is. The Memory Access comes in all five Visor colors and is priced at $44.95 and will directly compete with the InnoPak/2V from InnoGear.

The InfoMitt pager was also on display. It uses the Skytel paging service a cost of $39.95 for 3 months. The main screen can be customized so that important data is shown in a personalized manner. In the future, it will be possible to send meeting notices via page to the InfoMitt and the user's calendar will be updated with the information. This is a great idea, and I hope that wireless vendors will use the same approach. The InfoMitt is $49.95 and will be available in all the colors of the Visor rainbow.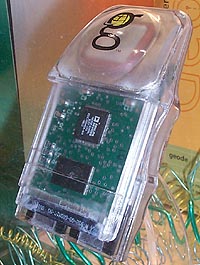 Once when I visited Colorado on vacation, I found a geode, a rock that has gems inside. I saw a Geode today at GeoDiscovery's booth that on the surface is a GPS module, but inside the application is so much more.
What makes the Geode special is its content. Looking for a cheap Chinese restaurant within two miles of your current position in Manhattan? Let the Geode know, and it will display a listing of restaurants. Choose the ones you like, and it will then display them as points on your map. Other points of interest such as hotel, park, restaurant, and more can be searched for as well. No hotels in your area? Geode will remove the hotel option from the category listing of points of interest. This is a great time saver because it keeps you from searching for things that aren't in your area. Geographic data can also be shared with other users, so you can let your friends know exactly where that restaurant is you've been talking about.
Physically, the Geode uses 2 AA batteries and draws no power from the Visor when it is in use. The main application that I saw allowed full zoom and only a small portion of the screen was used by the application, allowing the map portion to have more screen real estate. Maps will vary in size based on where you live. As an example, a map with a portion of Manhattan is around 160K. The signal strength is powerful enough to work in cars and has even worked inside some buildings.
The module will ship with 64MB and uses two MMC slots for its map data. For those who will be roughing it, the Geode is made of a polycarbonate that I'm told provided excellent protection during tests. There will be a special case that allows you to protect your Visor from the elements and still use the Geode as well. Worried about the future? The Geode can be flash-upgraded, so when Handspring finally comes out with a color Visor, you won't need to buy a new module. Functionality that allows you to backup your Visor data could also potentially be added in the future.
Beta testing will begin shortly, and if all goes well (beta testing, flash procurement) the Geode will be out at the end of the summer. What I find to be the most compelling about this module is that the key to the user experience is not where you are, but where you could be. As for the soap opera that is the HandyGPS, the module will hopefully be out by the end of July, as testing is currently under way. The HandyGPS will have an introductory price of $139 and will use UbiGo as the mapping software. We'll try to have more on the HandyGPS tomorrow.


Symbol, PSC, MiniJam, InnoPak, Franklin >>


Copyright ©1999-2016 Smartphone Experts. All rights reserved : Terms of Use : Privacy Policy
VisorCentral is not not affiliated with or endorsed by Handspring Inc in any way.