visorcentral.com >> Stories >> Hardware
MiniJam's Mega-accessories
MiniJam Accessories

One would think that releasing the MiniJam (finally) would be enough, but InnoGear has a complete line of accessories to go along with it. Some of these will be released soon, while others (as noted) won't be coming out until later this year.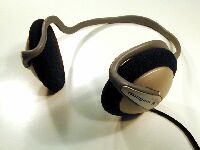 For your listening pleasure
First up is a pair of MiniJam-branded deluxe" backphones," which wrap around behind your head instead of crossing over it. Think Cyclops (without the front) from the X-Men movie. They're supposed to be light-weight and comfortable, and will be available later this month for $15.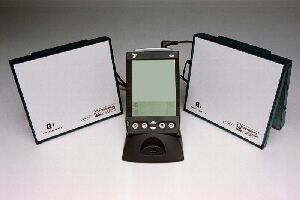 MiniJam NXT Flat Panel Speakers -- I want these on my desk! These portable battery-powered flat speakers are about the size of a ¾" thick CD jewel case and open up to form an easel for standing. The speakers come in "cool clear" or greenish-blue plastic colors, and InnoGear tells me they sound great and use SRS Spatializer sound enhanced technology and are non-directional, so you don't have to point them at you to listen. They use batteries but can also be powered by a wall adapter. The speakers should be available in October with a price of <$100 for a set.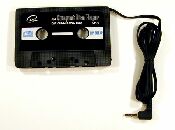 You can also take your MiniJam in the car with a Cassette Deck Adapter. This will run about $15.
Carrying the MiniJam around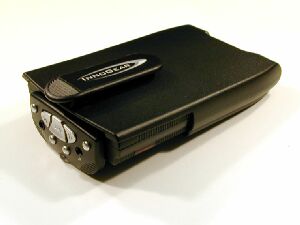 InnoGear will also be selling a branded Visor Beltclip holster (see review) that has the InnoGear logo on the clip and on the inside. This will also be available in September for around $20. InnoGear is also working on a "unique flip case," but there is currently no information on it.
A Deluxe Leather Case is also in the works that (obviously) works with MiniJam and any other oversized modules. It has small pockets for MMC cards and a business card pocket. Pricing and availability aren't available.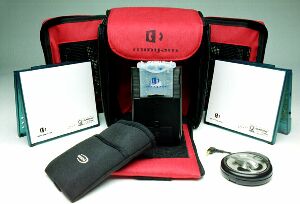 Turn your MiniJam into a mega-party with the BoomBag! This rugged nylon case that holds two Flat Panel Speakers, the Visor, MiniJam, and looks like it could hold a few Shiners. Drop a few classical songs on the MiniJam and you're ready for a secluded picnic, or drop some Jimmy Buffett tracks on and you'll be the life of the party! When you unzip two zippers, the BoomBag opens up and exposes the speakers. You don't even have to remove the speakers to listen to them. The BoomBag will be available in October for <$30.

More Power >>


Copyright ©1999-2016 Smartphone Experts. All rights reserved : Terms of Use : Privacy Policy
VisorCentral is not not affiliated with or endorsed by Handspring Inc in any way.