visorcentral.com >> Stories >> Commentary
Traveling with the Visor
Thu & Fri
Thursday - Day 4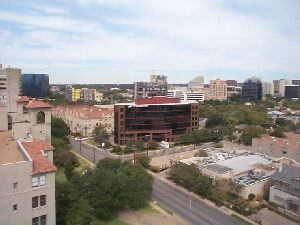 Today was the last day for me at the conference, and it couldn't have come soon enough.  These "highlights" were spaced among long periods of boredom, especially when I was back at the hotel.  I watched "The Whole Nine Yards" (good movie) and the second Presidential debate (they should've had Nader and Buchanan there) to pass the time yesterday.  Today it was Must See TV 
.
Friday - Epilogue
The flight home was without incident, and I was able to sit next to someone I used to work with.  I spent the short flight listening to my MiniJam and thumbing throng SWA's Spirit magazine, where I noticed an ad for the Minstrel S module.  This was the first trip where I used the Visor almost exclusively do get online.  As you have read, there are some bumps in the road.  Hopefully online apps like AvantGo and AIM will improve, and I'm looking forward to better cases.
The @ctiveLink really came through in a pinch, and the SpringPort only gave me a problem when the batteries ran low.  And in case you're wondering, I wrote the entire first draft of this article on my Visor by using TakeNote and the Stowaway.
Will I forgo  a laptop completely and only use the Visor on business trips?  Probably not, as I really need a bigger screen for web browsing and would like to watch DVD movies for those long flight delays.  Maybe Handspring will make a webpad one day. 
Copyright ©1999-2016 Smartphone Experts. All rights reserved : Terms of Use : Privacy Policy
VisorCentral is not not affiliated with or endorsed by Handspring Inc in any way.