visorcentral.com >> Stories >> VisorCentral
VisorVision Explained
More than just editing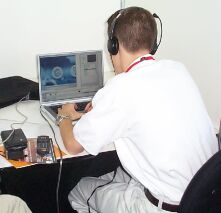 Video editing was not the only technology that the VisorCentral staff utilized on the trip. At the hotel, there was one phone line that four people needed to use to check email and the Discussion Forums. With two PC laptops running Windows 98 and two Mac notebooks, we knew that it would be an interesting setup.
After connecting the machines to an ethernet hub, the PowerBook along with BrickHouse was used as an Internet connection point for the other machines. We were even able to copy a file from a PC to a Mac by using the FTP server built into Mac OS X. The dialup connection was slow but we were able to all use the Internet at the same time. I was always happy with my PowerBook purchase -- this trip has now made it one of the best purchases in my life.
We hope that our readers enjoyed the video content that we were able to provide at this year's PC Expo. If you have any suggestions or comments about the streaming content, please send an email to visorvision@visorcentral.com.



Copyright ©1999-2016 Smartphone Experts. All rights reserved : Terms of Use : Privacy Policy
VisorCentral is not not affiliated with or endorsed by Handspring Inc in any way.