visorcentral.com >> Products & Reviews >> Modules
Symbol CSM150 Barcode Scanner
---
Sun Dec 2, 2001 - 9:18 PM EST - By WAGWARE
---
Product Info
Details
Availability
Pricing
Introduction
The Symbol CSM150 Springboard module, which offers the ability transform any Visor into an advanced barcode scanner, has gone relatively unnoticed since its introduction over a year ago.

The first thing that you need to do after inserting the small lightweight module (5 oz.) into a Visor is to assign which hardware buttons you would like to trigger the barcode scanner. The CSM150, unfortunately, does not have itís own hardware button and relies upon the Visorís own hardware buttons to trigger the scanner.

The "CSM150 Hello" application, which is installed to your Visor automatically during insertion of the Springboard module, allows you to quickly assign one of the Visorís four hardware keys (Address, Phonebook, To-Do or Memo buttons) to act as the scannerís trigger button(s).

The CSM Hello application also allows you to test the barcode scanner by its ability to scan/decode a barcode and display the Barcode Type (barcode Symbology) / Scanned Label (Encoded data). While it would have been nice if Symbol had added itís own hardware trigger to the back of the module, we have noticed little difficulty in getting used to Visorís hardware buttons.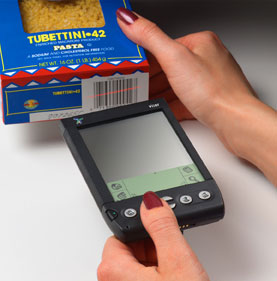 The CSM150 also includes 1.7MB of available memory on the module itself for saving a host of applications. Although, all databases will need to reside in the Visorís RAM (based on our experience).

If the application that you are considering will require large amounts of storage for the database, you will want to select a Visor model that will handle the memory requirements of your particular application. The 1.7MB of available module memory should be sufficient for storing the actual program and associated libraries needed for most applications.

The module also includes a copy of the familiar File Mover application to move files between the Visorís RAM and the modules RAM.

Other than the CSM Hello application and the File Mover, there are no other applications included to take advantage of the CSM150. You will need to obtain a 3rd party application, contract a development company (such as WAGWARE) or create your own application using many available development environments for the Palm OSģ.

Development >>



Copyright ©1999-2016 Smartphone Experts. All rights reserved : Terms of Use : Privacy Policy
VisorCentral is not not affiliated with or endorsed by Handspring Inc in any way.