visorcentral.com >> Products & Reviews >> Modules
SoundsGood
Product Info
Details
Availability
Pricing
MusicMatch
If you want something to listen to MP3 files on your desktop, Good Technology also includes the free version of of MusicMatch Jukebox with the SoundsGood.  I'm not going to go into all of the applications features, but you can find a listing at the Music Match website.  Of interest for SoundsGood owners is the ability to create your own MP3s and the ability to burn a CD with MusicMatch -- both of these features are faster if you spend the $19.99 to upgrade to MusicMatch Plus.
You can also use MusicMatch to transfer files to the SoundsGood.  Set the Visor+SoundsGood into its cradle and run the Connect application.  Then inside of MusicMatch, select Options | Send to Good Desktop.  This will bring up the SoundsGood desktop and add your file(s) to the queue.  Click Get to begin the transfer.  As the Good Desktop is still used to transfer files, the only advantage of MusicMatch is that you can send a song you are currently listening to on your PC to your Visor in fewer steps.
Is the Sound Good?
Ok, so the music is on my SoundsGood and it's time to see how it sounds.  When you first insert the SoundsGood, a brief Good splash screen appears for a moment and then takes you into AudioPlayer.  Here you can use standard audio controls and a few advanced audio features.
Tap the Mode button to allow you to change between Normal play, repeating the current track (Repeat 1), Repeating the playlist after it finishes (Repeat All), and randomly playing tracks (Shuffle).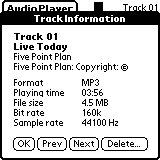 Tap Details to bring up track information and other information.  You can also delete a track from this screen.  Notice that Details also shows the Format (MP3).  According to Good Technology's website, other formats like WMA will be coming.  The SoundsGood's flash ROM can be upgraded, so it won't be a problem incorporating new features into the SoundsGood down the line.

More on Audio >>


Copyright ©1999-2013 Smartphone Experts. All rights reserved : Terms of Use : Privacy Policy
VisorCentral is not not affiliated with or endorsed by Handspring Inc in any way.