visorcentral.com >> Products & Reviews >> Modules
MiniJam
Product Info
Details
| | |
| --- | --- |
| » | Name MiniJam |
| » | Company InnoGear |
| » | Memory: 37 K on Visor when inserted |
| » | Weight: 1.4 oz. |
| » | Size: 2½ x 2¼ x 1-1/8 |
| » | Hard Cover Compatible: No |
| » | Fact Sheet & User Opinions |
Availability
Pricing
MusicMatch
If you want something a little more glitzy than MJLoader, InnoGear also included a fully-registered version ($19.99 value) of MusicMatch Jukebox with the MiniJam.  The software is too full-featured for me to review it here, but you can find out a list of its features at the MusicMatch website.  The MiniJam ships with only the PC version of MusicMatch Plus -- Mac users can download the free version to use until late September and use the Mac version of MJLoader until then.  Of interest for MiniJam owners is the ability to create your own MP3s and the ability to burn a CD with MusicMatch.
As the MiniJam seems perfect for the spy in all of us, the appropriate CD for testing would be my The Best of Bond... James Bond 007 CD with all of the great Bond songs up until Tomorrow Never Dies.  Put in the CD and MusicMatch brings up the list of songs.  Clicking the Record button (to the left of Play) brings up the Recorder.  Select the songs to record and tap the Record button again.  The time to "rip" the songs will vary, but it was less than ten minutes for the 19 songs from the CD that I used.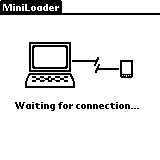 You can also use MusicMatch to transfer files to the MiniJam.  Inside of MusicMatch, select Options | Send to Device | Download Playlist to MiniJam.  This will bring up a screen similar to the MJLoader software and lets you transfer MP3 files to the MiniJam and delete songs from the module.  Run the MiniLoader app on the Visor to connect to the desktop and transfer files just like in MJLoader.  The transfer speed for MusicMatch is exactly the same as MJLoader.  I found that I preferred the MJLoader interface over MusicMatch when transferring files to the MiniJam.
Time to Jam!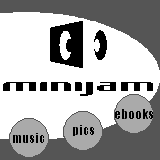 Ok, so the music is on my MiniJam and it's time to listen.  When you first insert the MiniJam, you get a startup screen where you can choose to play music from MiniJukeBox, view pictures with AlbumToGo, or read eBooks from Peanut Press.  This is completely customizable if you prefer a different application or don't want the startup screen.
Tap Music to bring up MiniJukeBox, which has quite a lot of features for an audio player.  One of the neatest things is the ability to have skins to customize the look of MiniJukeBox.  I have here some of the included skins to give you an idea of what can be done.  Skins are beamable, and a skins editor will be available soon from InnoGear.  Then the race begins for the best VisorCentral skin!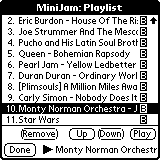 At the top right of the screen is a down arrow.  Tap the arrow to bring up any of the following:
Playlist -- Select a song to play
File manager -- select songs to be on the list
Sound Control -- adjust Bass and Treble or use a preset
Song Info -- Title, artist, sampling rate, and other information
Skins -- Select a skin to use
File transfer -- runs MiniLoader

You can use File Manager to select which songs are in the Playlist.  I can carry my Pearl Jam songs and some of my wife's Dixie Chicks songs and turn off the Pearl Jam tracks when she is using the MiniJam.

How does it sound? >>


Copyright ©1999-2016 Smartphone Experts. All rights reserved : Terms of Use : Privacy Policy
VisorCentral is not not affiliated with or endorsed by Handspring Inc in any way.