visorcentral.com >> Products & Reviews >> Modules
OmniSky
Product Info
Details
| | |
| --- | --- |
| » | Name OmniSky module |
| » | Company OmniSky |
| » | Width: 2.6" |
| » | Length: 5.0" |
| » | Length (external to Visor): .73" |
| » | Thickness: .32" |
| » | Weight: 4 oz |
| » | Fact Sheet & User Opinions |
Availability
Pricing
Included Applications
E-Mail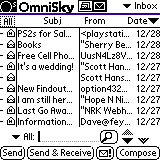 The OmniSky 2.0 service includes a "bandwidth-optimized" email application. You setup the information for your POP/IMAP email servers, and these preferences are stored on the server-side. When you check your mail OmniSky downloads just the first 1000 characters of each email. That's enough for most emails, and you are given the opportunity to download the complete body of the email later. It's a fairly fast system. You are also able to attach Addresses, Todos, etc, as well as VCards. OmniSky claims this new 2.0 email application downloads mail 40% faster than version 1.0.
The biggest problem with the email application is it's speed in handling offline manipulation of a large number of emails. I get easily a hundred emails a day, and this mail application scrolls incredibly SLOWLY, displaying each email is visibly slow - even on an overclocked Visor Prism.  My other complaint is that nearly 1/3 of the screen is used for addresses in the Compose Message screen. This is a waste of space and makes writing longer email difficult. Other than these bugs, it is a very functional application, and even allows separate Inbox folders for each Email Account. While composing a message, it allows you to pick from contacts in your Address Book and automatically insert their email addresses.
Web Clipping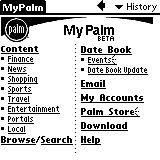 One service that is currently unique to OmniSky amongst Wireless Modem Packages is the addition of Palm VII PQA "Web Clipping" support. There are thousands of Palm Query Applications (PQAs) that you can download from http://www.palm.net and previously they could only be used on Palm VIIs. PQAs are optimized for very small bandwidth by keeping resources like images and the home page pre-installed on your Pilot. They work great with OmniSky and opens up a huge library of Palm-optimized content, including the new MyPalm.com service. You can tell when an application is a Web Clipping application when you see a little sparkly at the end of a hyperlink.  The OmniSky software also let you add your own list of WebSites as bookmarks. 
ScoutSync
ScoutSync is a 3rd party application that OmniSky bundles and is a clever idea. It is a lot like the Mobile Application Link that AvantGo uses to deliver content. Content can be delivered directly to the Visor over a wireless connection by "ScoutSyncing" from the Visor, or when you HotSync your Visor with your Desktop. ScoutSync differs in that it is meant not only as a content updater, but also as a component updater for OmniSky. OmniSky delivers additional free content to it's main application, for example, a Holiday Shopping guide this Christmas, or updates to the main application. Of course, it can be disabled, and updates can be downloaded manually from OmniSky. I thought it was a very clever solution to the problem of keeping users up to date.
Optimized Content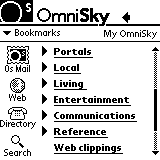 OmniSky uses a primary "Launcher" Application that runs when you press the only button on the modem. OmniSky's content includes Palm-optimized news, weather, sports & stocks, local dining, movies & events, maps & directions, horoscopes. It also includes My OmniSky which is a co-branded personal home page in association with InfoSpace. It is an excellent collection of 80% of the things you would want to do with a wireless handheld. I used it to check airport gate changes, traffic, and find phone numbers in the Yellow Pages. This directory of optimized content is updated often and can be downloaded from OmniSky or via ScoutSync.
Connectivity/Coverage >>
Copyright ©1999-2013 Smartphone Experts. All rights reserved : Terms of Use : Privacy Policy
VisorCentral is not not affiliated with or endorsed by Handspring Inc in any way.