visorcentral.com >> Stories >> Hardware
UPD: Geode GPS released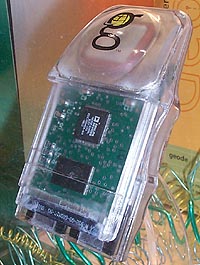 GeoDiscovery announced today the availability of its Geode™ GPS Springboard module for the Handspring Visor. From the press release:
To support the GeoDiscovery Active user experience, the Geode includes several unique features such as SiRF Star II GPS receiver with SnapLock™, FoliageLock™, and Wide Area Augmentation System (WAAS) to improve accuracy and sensitivity; digital compass; two MultiMediaCard slots for future expansion capable of holding up to 64MB each of maps, content, and Palm OS files; and internal flash memory loaded with applications and world maps to guarantee a great startup experience anywhere in the world.
Please note that the according to the GeoDiscovery website, the Geode as released cannot store data on MMCs until GeoData Manager is released. Consumers who receive the Geode GPS module before GeoData Manager is released will receive a coupon for five National Park Packs. A software update that includes GeoData Manager is expected before the end of February.


Users who do not have the Geode module can download GeoView™ Mobile to display maps and points of interest on their Palm-compatible. GeoView Mobile can also be used to create personal maps and journals of your travels. GeoView Mobile is now available for download.

The Geode retails for $289, and GeoView Mobile is free. I've been waiting for this module to be released ever since I spoke with GeoDiscovery during the 2000PC Expo.




Copyright ©1999-2016 Smartphone Experts. All rights reserved : Terms of Use : Privacy Policy
VisorCentral is not not affiliated with or endorsed by Handspring Inc in any way.