visorcentral.com >> Stories >> Hardware
Handspring introduces the Visor Edge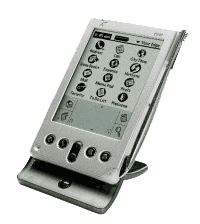 Tribeca Grill, New York City - On location at Handspring's press conference in New York.

Handspring today announced Visor Edge - a slimmer and more stylish version of it is popular handheld computer.

Visor Edge is available now at Handspring.com for $399. Amazon is also taking orders, but not yet shipping.

The Silver and Blue colored versions of Visor Edge should be available in retail stores within two weeks. The red version is currently only available thru Handspring.com.

Visor Edge Details

Visor Edge comes with 8MB of RAM and includes the basic features of the Visor line of products such as enhanced applications, USB support, Mac OS compatibility out of the box and the innovative Springboard expansion slot. The detachable Springboard slot provides the flexibility and power of Springboard modules without compromising the thin design when modules are not being used.

A rechargeable lithium ion battery powers Visor Edge, providing approximately three to four weeks of normal use on a single charge. In addition, Visor Edge has a fast top-off time that allows the handheld to be charged within minutes when docked in the charging cradle. Visor Edge uses the fastest Palm OS processor, the DragonBall VZ 33MHz processor, which makes tasks such as finding data in the address book and memo pad applications, sorting records and accessing and deleting items from the applications launcher extremely fast. Its monochrome display supports 16 shades of gray (4-bit grayscale) for crisp, clear graphics.

Visor Edge is based on Palm OS 3.5 that Handspring has optimized for fast performance and USB connectivity. As with all Visor products, Visor Edge is one hundred percent Palm OS compatible, allowing users to download thousands of applications.

Enhanced Features

In addition to its sleek style, Handspring has enhanced two key software functions that are unique to Visor Edge: Fast Lookup and Silent Alarm. With the Fast Lookup feature, people can access contact information more rapidly using the application buttons, without having to use the stylus or Graffiti text input.

The Silent Alarm feature offers users a purely visual reminder of appointments, ideal for use in meetings or other occasions when audible alarms are inappropriate. When the Silent Alarm is activated, the light underneath the power button will blink to alert you of your next appointment without disturbing others.

The Edge Connector

The detachable Springboard slot for Visor Edge fits into the Edge connector, a small connector on the back of the handheld, so existing Springboard modules can work easily with Visor Edge. When expansion products are not in use, the Edge connector is protected by a small metal hinged door on Visor Edge's metal flip cover.

Other expansion products can be built specifically to fit the design of Visor Edge. Expansion products that fit directly into the Edge connector are expected in the coming months from third party development partners. Expansion products under development for the Edge connector today are designed specifically for use with Visor Edge. More information about the Edge connector and free developer materials are available at Handspring.com/developers.

Accessories

Handspring also introduced today a full line of Visor Edge accessories including a stylish metal hard case, a full line of value leather cases and three lines of premier leather cases. Handspring will also sell optional serial and USB charging cradles for Visor Edge, a travel charger and a USB HotSync cable. Lastly, Handspring will offer replacement flip covers in all three Visor Edge colors and a replacement detachable Springboard slot.


Copyright ©1999-2016 Smartphone Experts. All rights reserved : Terms of Use : Privacy Policy
VisorCentral is not not affiliated with or endorsed by Handspring Inc in any way.