visorcentral.com >> Stories >> Special Reports
Report from the Floor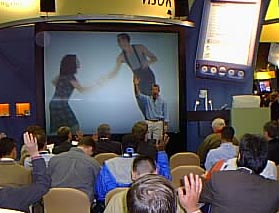 This report is the second in a series of articles that will be published containing information from Internet World.
Yesterday I snuck into Internet World at the Jacob Javits center, avoiding the $50 onsite entrance fee. After wandering around the maze-like hall, I made my way over to the Handspring booth. I perused the Springboard modules (more on that later) and soon settled in for a product demo with the hopes of winning a Visor Deluxe. Yes, they were giving them away. All I got was a Handspring T-Shirt, registration card strap, little sticky figure (donít ask), Handspring pen, and some sort of pocket knife type thing that I havenít bothered to play with yet..
But I did get lucky. Instead of the usual presenters, Jeff Hawkins decided to step up to bat and give his spiel. Boy was he enthusiastic. And he was having a lot of fun. For this special Hawkins demo of the unit, the Handspring staff and presenters gathered around like acolytes. Occasionally he leaned over to make sure he was on the right track from the presenters who had been working all day.
Suffice it to say that I didnít learn much new about the product itself. But I will confirm what many have said from my personal interaction with the unit. It is snappy, the screen clear and bright, and the built in revised datebook application is a very welcome addition. The World Time application I find next to useless but Jeff Hawkins explained that the only reason it is included is that he finds the app cool. I guess that is the designers prerogative.
As others have mentioned, the buttons have a better feel than the Palm Devices. I have mixed feelings about the color cases. Honestly, I like the graphite (black) Visor best but I couldnít order a Visor Deluxe without insisting upon a funky color. I mean, I have to show off the fact that I have a deluxe, donít I? I should also note, and someone correct me if Iím wrong, the cradles seem to only come in Ice and Graphite. So those of you who want to color coordinate your cradles ought to consider only those colors.
Interesting notes department. I tried out my new Pilot Pentopia Chameleon in the slot of the Visor. It disappeared, swallowed up whole. I love this new little pen/stylus and it works beautifully with my Pilot 1000. Unfortunately, it seems I might have to give this little wonder to my wifeís Professional and move to another solution.
Why doesn't Graffiti Pop Up? >>
Copyright ©1999-2016 Smartphone Experts. All rights reserved : Terms of Use : Privacy Policy
VisorCentral is not not affiliated with or endorsed by Handspring Inc in any way.