visorcentral.com >> Products & Reviews >> Modules
InnoPocket and FAFileMover
Product Info
Details
Availability
Pricing
Note: Some portions of this review are identical to the previous review of the MatchBookDrive. Additionally, both CF Adapters use the the FAFileMover software. However, this review can stand alone as a review of the InnoPocket CompactFlash Adapter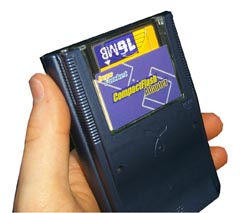 Ah yes, innovation and competition - the American way, right? But this time the innovation comes from a company in Hong Kong. The InnoPocket CompactFlash Adapter holds a CompactFlash (CF) Card entirely inside the Adapter. That means there is no "lip" where a CF Card could stick out. This is a very convenient design, and might inspire folks to leave their CF Cards in the Adapter all the time! There is a thumb-tip-sized cut out on the back of the adapter to allow you to get the CF Card out. A card fits very snugly inside of the InnoPocket and combined with a fairly strong plastic, makes for a very sturdy module.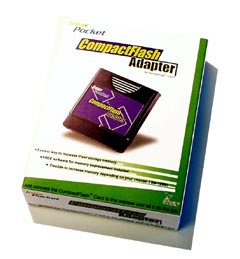 CompactFlash cards are fast becoming the standard for low-priced, conveniently-sized digtal storage. I use a 16meg CF Card and a 48meg CF card to move data between my Kodak Digital Camera, my Laptop's PCMCIA Slot (via a PCMCIA to CF adapter) and my Windows CE IBM z50 subnotebook. I've been really impressed with the flexibility of these cards as I've moved them from device to device without a problem. Many PocketPCs have CF Card slots built in, and we Visor owners lamented that we couldn't use this great form of storage.
For a while on the 'Net we watched as many Visor enthusiasts built their own FlashAdapter modules from nothing more than a $7 PCMCIA to CompactFlash adapter and two soldered wires. But, the software support wasn't there. Also, the CF Card stuck out of some of the adapters so far it was precarious. I'd rather pay a few bucks to someone to make me an adapter than risk embarrassing myself in a sea of solder anyway.
Hardware >>
Copyright ©1999-2016 Smartphone Experts. All rights reserved : Terms of Use : Privacy Policy
VisorCentral is not not affiliated with or endorsed by Handspring Inc in any way.